Choosing the right person to look up to can be a hard choice. The entertainment industry is packed with many famous teens that are known and adorned for being foolish. The whole young, wild, and free thing is a quo that many teenagers often seem to go for. Not all Teens are like this though! The media likes to put the crazy ones in the spotlight. They make for dumb stories that will sell well. Here are some teens ( some are young 20 somethings now but got big as teens) that deserve a role model of the year award.
Amandla Stenburg
Stenburg is a young actress who began her career as a young teen in the Hunger games movies. Amanda has been a strong voice for young women and men on the matters of cultural appropriation. She is not afraid to speak out for what she stands for.
Amandas mother is African-American and father is Danish, became the subject of a now familiar strain of racist internet backlash, in which some fans of the hunger games novel noxiously objected to the casting of a person of color. She is a strong opposer to racism even though she has experienced people having ill feelings toward her
"I felt alone in it, or isolated by it," she said. "It made me feel like it was better to become smaller, or quieter, or less obtrusive or something." she said. She was recently in the movie "the hate u give" which portrayed police brutality which is something she feels strongly about.
"The most important lesson I've learned is to not limit myself. Kids at my age often get intimidated by the idea of adulthood and feel like they have to know exactly who they are and what they want to do with their lives. I've realized that it's okay to take my time figuring it out and exploring different aspects of myself instead of fixating on one idea of who I am." ~ Amandla Stenberg
Demi Lovato
Demi began her life as an actress as barely a school aged kid. She was a child actress and rose into a teen star. Demi worked on multiple tv channels as a young celebrity. Actress Demi Lovato has been outspoken about her struggles with depression, bipolar disorder, and drug addiction. She was able to conquer these feelings and follow her dreams. She is still on her road of recovery but she is open about all her feelings and experiences. Just last year she wrote a song called sober that talked about her relapse. She shows bravery and self confidence that we all need to be reminded to have in our lives.

Asia Monet Ray
Only 13 years old, Asia has come a long way. She started off as a child dancer and made many appearances on Dance Moms. Some say (many would say) she danced quite provaciviously as just a small child. Her appearance was often oversexualized as well.
It seemed that she would grow to be just another dancer that would be sexualized and admired for nothing but pretty legs. Asia has proven that stigma wrong though! She now sings as well. She sings truly meaningful songs that are met to motivate others and speak truth. It is inspirational how she does not let a path that was chosen for her as a child control her choices. If you want to sing, then sing!
Bars and Melody
No, that is not their real names lol.
Bars and Melody are a British pop duo consisting of rapper Leondre "Bars" Devries and singer Charlie "Melody" Lehman. They first got a taste of the spotlight in the 2014 Britain's got Talent. They were then only around 12 and 15 years old. They touched the heart of the wide audience by singing and raping about an important matter. Bullying. They talked about their own experience and how they made it through. It is inspirational to see how far the boys had come and were still trooping through.
China Anne McClain (and her sisters)
China anne mclain first popped up on. She went on to continue acting through her child and teen days. All 3 sisters have amazing and powerful voices. They sing inspirational songs instead of typical duragatory music.
McClain's career began in 2005 when she was seven years old, acting in the film The Gospel. She also played China James in Tyler Perry's Daddy's Little Girls, along with Idris Elba and her two sisters. They sing r&b, pop, play instruments and do vocals.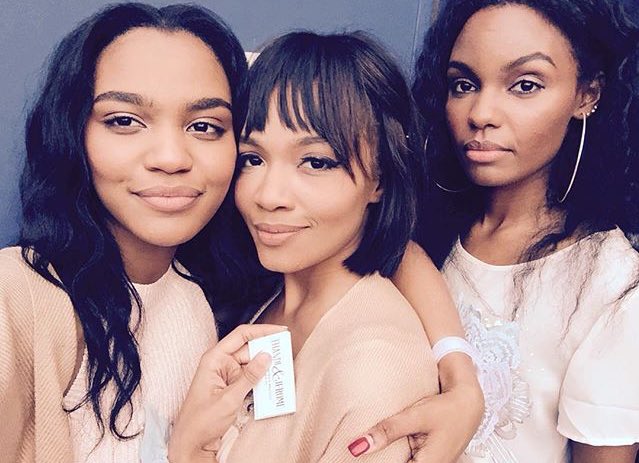 Zendaya Coleman
Zendaya began acting as a child on Disney. She danced and acted beautifuly. She stayed working on disney for a while as a way to be a role model for young girls. She wants to give them a good example to look up to and help empower . Zendaya has also addressed Hollywood and colorism. She admits to the fact of having light skin privilege and she feels that more dark women should get the spotlight too.
Zendaya received a Teen Choice Award and used her acceptance to condemn hate and encourage her fans to speak out against injustice. She calls out racial prejudice and misleading Photoshop.
When Giuliana Rancic of Fashion Police commented on Zendaya's gorgeous dreadlocks at the 2015 Oscars, she said that the star probably smelled like "patchouli and weed." This was Zendaya's Response.
Gabby Douglas
Starting at just 16 years of age, Gabby proves that hard work pays off. She is an amazing gymnast who took home the gold metal at the 2016 Olympic Games.
Gabrielle is the first woman of color of any nationality and the first African-American gymnast in Olympic history to become the Individual All-Around Champion. She is ALSO the first American gymnast to win gold in both the gymnastic individual all-around and team competitions at the same Olympic games.

google-site-verification=Ql7gnPNGt63gBatyLFmGg9AefZfJRlLpDWWY-KWt84Q