"Wherever you go, go with all your heart." Confucius
Nothing quite screams "Summer" like vacations. Who doesn't love traveling abroad to get tanned, go sightseeing, and drinking exotic margaritas (not like I would know anything about that last one hehe)? If you're vacationing the right way, you should be relieving stress and sleeping a lot. But chances are if you're a curly haired girl like myself, you might be too busy fussing with your hair to actually enjoy your down time. Don't worry, I've been guilty too.
While rocking your natural is always a bomb look, protective styles may be the way to go when simplifying your life during a trip. You can choose to style your actual hair or add in extensions but they'll be low maintenance nonetheless.
The styles on this list have their own pros and cons like water tolerance and completion time, but they'll all have you looking stylish, trendy, and chic in no time. Summer 2019 is all yours curlfriend– so get out there and travel the world!
Spring Twists
Spring twists can be put in just like Senegalese twists, but the extension hair used is curly coily, so the twists bounce or "spring" to a shorter length. The style is super simple to put in yourself. Due to the hair's curly texture, the style looks more realistic and resembles twists on natural hair.
My favorite part about this style is how it "seals" itself, meaning no dipping the ends! The ends are coily and hold together nicely without any support. You can go weeks on weeks on weeks without the twist ever unraveling.
This makes the style perfect for venture that could be tough on your locks. Any frizz that occurs will blend with the style and make the look appear more natural. An obvious perk over traditional Senegalese or Havana Twists. The style is extremely lightweight and can be pulled back easily without any pain or tightness.
The hair I used can be found here and was recommended to me by YouTuber Sissy Danae. I split each section of extension hair into two just so the curl pattern would look more realistic. The style took me a little over 3 hours to put in myself and I plan to wear this style during my trip to Washington D.C. as well as the following weeks. Did someone say 6 weeks?
The Crochet "Natural" Look
This style is basically perfect since you still get the illusion of rocking your natural hair without actually having to wear your natural hair. All hair is "your" hair if you bought it. I've never actually worn this style but it looks relatively simple to put in. Just cornrow your natural hair and insert the extensions using a crochet hook.
Why is this particular style perfect for traveling? Because it's zero maintenance and thrives on frizz. Honestly, the older the style gets, the more natural it starts to look. You can go swimming, hiking, scuba diving, parasailing, you name it, and any disruption to the purchased curl pattern will look totally fine.
Crochet Box Braids
If you haven't already figured, I kinda LOVE crochet styles. Just see my blog post here on why you should learn the amazing skill of crocheting(both hair and thread!) Crochet hair comes pre-sealed so no need to dip the ends of your braids. They're simple to put in and don't cost as much as actual box braids. This means that just in case you do, damage your style beyond in repair in something like say, water, you won't be throwing 8 hours and/or 200$ down the drain.
Crochet braids are also extremely comfortable, so you won't have to wait a couple of days just to pull them back into an updo. You can put this style in yourself pretty simply.
Two Cornrows
For anyone who knows how to cornrow, this is the perfect fast style. It's literally just two cornrows. All thick haired divas know that cornrowing can be a struggle so you're free to blow out your hair first if you choose. Just know that the style will no longer be quick.
You can do this style the night right before you leave in about 15 or 20 minutes. The style is pretty lightweight and doesn't cause any uncomfortable heat on the back of your neck like, other long styles. You'll be able to do plenty of physical activity without worrying about itchy synthetic hair.
Most divas choose to add in hair, but you can definitely complete this style just on your natural. The model in the picture chose to just braid up her natural hair. It all depends on the length you would like.
Two Braid Pigtails
The picture represents a more complicated form of the style I'm talking about. But isn't it just gorgeous? I mean, seriously, sister girl did that. And you can too. One or two cornrows on both sides may be easier, or you can completely leave out the cornrows.
The focus of this style is the two braid pigtails. While I would choose to take the model's route and add in hair, you can also do this style on your natural hair. I would imagine your hair would have to be pretty thick and at least shoulder length. Even if you find "pigtails" to be a bit childish, you can still wrap them both around and have "space buns." It would look a bit more like this.
Single Braid Ponytail
This style is a bit more 'sasha fierce' than the last one. Sometimes I refer to this style as a "Jasmine Braid." You simply slick your natural to the nines with gel and water, and pull it back into a band. You can then evaluate your own length and thickness to decide whether or not to add in hair.
You braid the hair all the way down, and you're given a ponytail braid. So much more fashionable than a normal single braid, don't you think? Yet another lightweight style that doesn't weight down your head or neck.
Faux Hawk Jumbo Braid
For a full tutorial by the lady pictured, click here. Wow, isn't this style #nextlevelfierce? (Maybe I've been watching too much America's Next Top Model.) You'll definitely need to add in hair with this one. I suggest parting your hair off in sections to begin with. You're gonna need a firm grasp my friend.
This style looks pretty quick though, and like something you're perfectly capable of putting in yourself.
Flat Twist Bun
I've definitely done this style more than a few times. The only thing that throws me off about flat twists is how easy it is for them to get loose or frizzy. Fortunately, when tie the ends with a band and either wrap a synthetic bun around or wrap up your natural, you hold the flat twists firm and (kinda) tight. Typically two flat twists, like in the second image, tend to frizz quicker. The style is the quickest though.
Four flat twists would be a bit more protective. You could choose to copy the fashionable diva in the first photo, and go with three. Your choice, but you get the gist.
Bantu Knots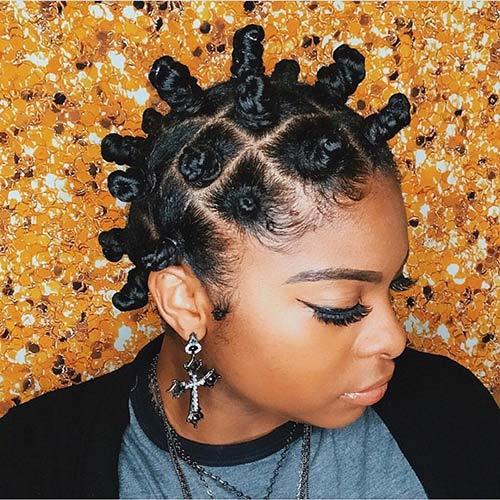 I feel like bantu knots are sometimes overlooked in the natural hair community, but they're just as protective as other styles. They're versatile, fashionable, and absolutely secure the festive look. They also don't weight down your head or neck which is always a plus.
Using pins to hold the knots in place instead of just really tightly wrapping them will reduce any excess hastle. Bantu knots are as easy or as complicated as you want them to be when putting them in. Thats mean they can take very little effort and you won't have to straight up bawl if they get messed up. Practically anyone can put in bantu knots and the braids are just up to personal preference.
Top Knot
A top knot is basically the perfect style for a "lazy" natural. Its cheap, takes about 5 minutes, and is totally doable for even a styling newbie. Your natural hair should be totally protected if you add in synthetic hair.
If your hair is long enough though, this style will be even simpler. This style is basically as a simple as a protective style can get. So the only question now is to knot or not to knot.
But wait!
Before you go, we want to make sure you don't miss out on any free deals. We're offering an exclusive natural hair cheat sheet explaining how my hair finally naturally grew 3 inches after 6 weeks and how yours can too to all our email subscribers. Proven tips for my type 3 and type 4 hair lovelies.
We'll keep you in the loop with exclusive DIY, Health, and Hair Beauty tips and hacks. Email subscribers get first access to all announcements, promo codes, discounts, giveaways, and product releases. We won't flood your inbox and we'll keep content relevant.
Sign up for our email list here
We're full-time students who love to create and blog. Twin sisters from NC focused on hair and health. We pride ourselves in being DIY lifestylists actively spreading creative, entrepreneurial spirits and Natural Hair Beauty Enthusiasts♥
If you're interested, we're giving away a Shea Moisture Hair Kit to one lucky email subscriber. You'll receive a five piece Shea Moisture Jamaican Black Castor Oil Strength Grow Repair hair kit. This is the hair kit that absolutely saved our hair, leaving it softer and more manageable than ever before. Being DIY lifestylists ourselves, we aim to only use natural products filled with pure ingredients proven to promote elasticity, strength, and hair growth. Giveaway period starts July 25th and ends August 15th! The winner will be notified via email and be announced on our Instagram page here. Check out our giveaway post for how you can secure additional entries. Make sure you follow us to stay updated!Sign up here to be entered.